2
Best Blogging Tools for Beginners and Pros (WordPress)
The Internet is overcrowded with blogging tools, software, resources and other goodies that are meant to support you as a blogger or digital marketer. With so many options available, it's tough working out which ones you should use and which ones you should avoid.
While a lot of this is related to personal choice and cost, there are tools out there that just aren't as good as others or don't do exactly what you expected it to do. I've used (and paid for) many tools over the years and I now know what works for me and what doesn't.
Broadly speaking, a WordPress blogger or Internet marketer needs tools to cover these six areas:
Hosting (+ domain registration)
WordPress themes
Keyword research and content strategy (+ link building)
Social media
Affiliate Marketing
Email marketing
Design
If your blog has a strong focus on social media, then obviously you'll need to invest more in social media tools. Similarly, if you're an affiliate marketer, you will probably need to invest more in keyword research tools.
The below best blogging tools for beginners and pros are the ones I swear by and are the only ones I really need on a daily basis to do my job. Of course, there are other tools available, but as a blogger you need to make choices and the following tools are the ones I've chosen and I am still very happy with.
— DOMAIN REGISTRATION AND HOSTING —
1. DreamHost
Over the years I have used several hosting providers such as DreamHost, GoDaddy and Bluehost, with mixed results. If you're just starting out, one thing I recommend you do is to not just go for cheap. Cheap is cheap for a reason. Go for quality instead, and find a host where you'll be able to easily scale up your hosting package without hassle and without breaking the budget.
I now stick with DreamHost, a no-nonsense hosting provider that delivers a good variety of hosting packages, great customer support and excellent performance. DreamHost may not be the cheapest option out there, but they are not the most expensive one either. They find the perfect balance between quality and affordability.
Use
this link
to get a
40% discount
when you purchase a 1-year shared hosting package with
DreamHost
including one
free domain
.
Avoid Bluehost
If you have looked around to see what other bloggers recommend, you may have noticed that Bluehost pops up a lot. I don't recommend Bluehost for two reasons:
1. Bluehost is popular because it's cheap and easy to set up for beginner bloggers. But once your blog grows, Bluehost simply isn't the best option because they don't focus on quality and performance. So it's better to get it right from the start and find hosting at a company that values quality more than anything else.
2. Bluehost is owned by EIG, a web hosting corporation that owns a great number of hosting companies. These hosting companies have all retained their own brand so customers don't actually know they are customers of EIG. If you're not happy with your host (for example Bluehost) and you move over to a different host, chances are you remain a customer of EIG.
Check out my guide to choosing a good web host for your WordPress blog.
2. Thrive Themes
If you want to get serious about blogging on the WordPress framework, you will need a premium WordPress theme. With literally thousands of premium themes to choose from in the marketplace, it's hard to pick one that not only suits your brand, but is also reliable and offers all the right features.
I have purchased several WordPress themes over the years and I am by far most satisfied with the themes offered by Thrive Themes. Thrive is a software company that develops top quality WordPress themes and plugins. They are highly regarded in the blogging community and some of the biggest blogs out there use a Thrive Themes WordPress theme.
This website, Blog Pioneer, along with some of my other sites, uses the popular FocusBlog theme by Thrive and I can honestly say that this is the best theme I have ever worked with. It's a fast theme, very easy to configure and it includes some very useful design features that allow me to create awesome layouts without the need for complicated HTML code. What I like most about it though is that it isn't overloaded with features that you don't need and would only slow down your site.
Thrive offers lifetime updates. Their themes are continuously being improved and you will receive all their updates for as long as your site is live. They also offer one year free technical support. If you choose a premium WordPress theme from Thrive Themes, you can purchase a single license or an unlimited license that allows you to install the same theme in as many websites as you like.
— KEYWORD RESEARCH AND CONTENT STRATEGY —
3. SEMrush
One of the best ways to increase (organic) traffic to your website is by publishing quality content around keywords. SEMrush is a web-based tool that helps bloggers and Internet marketers find keywords that their websites are (not yet) ranking for and what competitor websites are ranking for. This process is called keyword research and should be an ongoing process if organic traffic is your main goal.
SEMrush tells you the exact positions in the SERPs your website is ranking for certain keywords and it does this based on geographical location. This is not only useful for tracking purposes, it also allows you to optimize existing content for keywords you're not yet ranking high for.
Personally, I spend a lot of my time optimizing existing content rather than just pumping in new content. Not only do I find this very rewarding, it's also very rewarding. Why leave a blog post sitting in the basement eating dust if you can improve it with a few SEO tweaks and get it to rank on page one of the search engines? That's where a tool like SEMrush comes in super handy.
While SEMrush is most useful as a keyword research and tracking tool, it also allows you to do SEO audits, run reports, track social media traffic, track backlinks, compare domains and much more.
4. Ahrefs
Ahrefs and SEMrush are two very similar tools and each other's biggest competitors. They both offer very similar features and their pricing structure is also almost identical. So which one should you choose?
Ahrefs is known to offer more accurate data than SEMrush when it comes to backlinks. So if backlink tracking and creating new backlinks is your main focus, Ahrefs is your best choice. Other than that it's basically a personal choice. I find the user interface of SEMrush more intuitive and friendlier to navigate than Ahrefs which is why I prefer SEMrush. Others may find Ahrefs easier to use.
What matters is that both these tools are an essential investment if you want to be serious about blogging and improving the rankings of your site.
5. KeySearch
In business since 2016, KeySearch is a web-based keyword research tool that offers a wide range of features related to keyword tracking, competitor analysis and backlink tracking.
While not nearly as powerful as Semrush and Ahrefs, KeySearch is perfect for the beginner or budget blogger who wants to dive deep into the exciting world of keyword research without breaking the bank. KeySearch is much more affordable than the aforementioned tools but, despite its flaws, is still a very useful tool to have.
6. Tailwind
One of the most popular and best social media blogging tools for both beginners and seasoned bloggers is Tailwind. You can use Tailwind to help manage your Pinterest account as well as your Instagram account.
So many bloggers that are active on Pinterest use Tailwind to increase their following, schedule their pins, join tribes and to get great analytical insights. It's perhaps the most used and most needed social media blogging tool out there.
Similarly, if you need help managing your Instagram account and grow your following in an ethical and effective way, Tailwind may be the answer. Tailwind helps with scheduling posts and finding the best hashtags. It also provides excellent analytics and monitoring tools to help optimize your campaigns.
You can try Tailwind out for free. And, if you like it, you can go for a paid plan which is only $9.99 per month. Cancel anytime, nothing to lose.
Use this link to sign up (no credit card required).
7. Sumo
Sumo is a suite of blogging tools that can be used to grow your website's traffic via email and social media. Most bloggers use Sumo for their recognizable social media share buttons and email popups. Sumo has a great variety of different popups that you can choose from and they are also customizable.
What's great about Sumo is that they email you a weekly report with statistics around number of shares, number of email signups, and so forth. Very useful!
I personally use Sumo mainly for the share buttons which you can see on the left (or bottom if you're on mobile). A great feature is that you can configure different social share buttons on mobile. For example, it's useful to have email, text and WhatsApp as share options on mobile, but not so much on desktop. I am also a fan of the Pinterest image share option which allows visitors to directly share images from your site on Pinterest with a link to the page the image is on.
The other core feature of Sumo is their wide range of popup forms that you can use for your email marketing or to grow your social media following. All of their popup forms are fully customizable and can be configured exactly the way you want them to be.
Sumo has a free and a paid version. While the free version has its limitations compared to the paid version, the free version is actually a very feature-rich product.
8. Amazon Affiliate WordPress Plugin (AAWP)
One of the best and most flexible affiliate marketing plugins designed for Amazon Associates is AAWP. The Amazon Affiliate WordPress Plugin allows you to easily create and customize comparison tables, product widgets, product boxes, lists of new releases and much more.
The beauty of AAWP is that that this plugin is able to output very professional looking tables and widgets without too much effort. And because these tables and widgets look so appealing and credible, conversion rates will skyrocket.
It's also worth noting that AAWP is fully compliant with the strict terms and conditions of the Amazon Associates program.
I have been using AAWP for my affiliate site for quite some time now and consider it to be a no-brainer. So if you want to increase your affiliate revenue, get yourself an AAWP license and start configuring these beautiful tables.
9. MailChimp
There are many email marketing software tools on the market, but my personal favorite is MailChimp. We all know that building an email list is important in the world of Internet marketing, so it's vital that you choose email marketing software that suits both your current and future needs.
Building and designing email forms within the MailChimp dashboard is an absolute breeze, just like setting up a fire-and-forget email automation chain is. What's also great is that MailChimp offers integrated Google, Facebook and Instagram ads.
The good thing about MailChimp, unlike other reputable email marketing tools, is that they offer a very generous forever-free version. As long as you stay below a certain email list threshold, you will never have to pay. And although there are limitations in the free version, it works really well. Once you hit this threshold, MailChimp offers different options to upgrade. This can be a monthly subscription or a pay-as-you-go system.
10. Canva
If you don't have skills in professional design software such as Adobe InDesign or Photoshop, Canva is by far the best alternative. Even if you have zero design skills (like me), with Canva you can still create decent images, logos, and other branding related aspects.
Used by professionals as well as non-designers, Canva is a free web-based graphic-design tool that gives users access to over a million pictures, graphics and fonts. Their user interface is very intuitive so that designing stuff actually becomes enjoyable to do. They also offer affordable paid versions which give you access to more stock imagery and also help you with creating a personalized style for your own brand.
I would also like to mention PicMonkey, my second favorite online design tool. It's very similar to Canva and I mostly use it for creating and filtering images.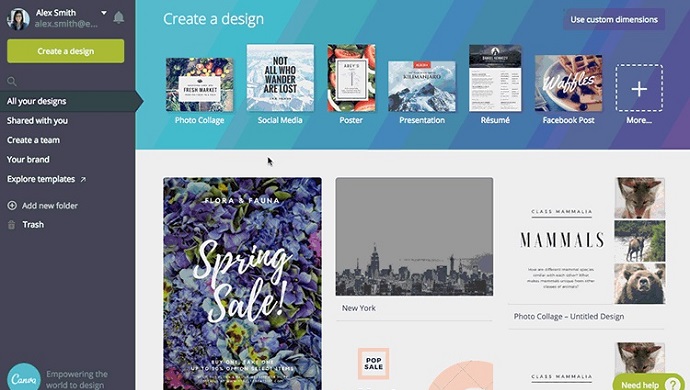 — BONUS: ESSENTIAL WORDPRESS PLUGINS —
The market for WordPress plugins is huge, and while it's tempting to install a plugin for every issue you encounter in WordPress, it's important to only install plugins that you really need and add value to your WordPress experience. Some plugins are essential, other plugins are just plain unnecessary.
Be conservative when it comes to installing WordPress plugins. Each plugin has the potential to slow down your site and make your site vulnerable to security issues. Only install plugins that you really need and don't install plugins that you can easily go without. It's also important to always update your plugins to the latest versions to avoid security and compatibility issues.
Below is a list of plugins that I use myself. All of these plugins are free, but they do have premium versions available. In addition to the social media plugins mentioned above, the following plugins are the only ones I need.
Struggling to get
more traffic
to your website?
Subscribe now and receive no-nonsense tips and updates straight to your mailbox.
Bonus:
My nr. 1 trick to give your new blog post an immediate SEO boost.