Last updated:
If you've read my honest and in-depth DreamHost review, you will know that I'm a fan of this reliable web host. But I'm also very much aware of the fact that DreamHost may not be for everyone.
I've been involved in the world of blogging, Internet marketing and technical website management long enough to know what to look for in a good web host. As such, I am recommending two very different web hosts: DreamHost and SiteGround.
These two web hosts are for two different types of bloggers. Please read on and find out which of these two web hosts would suit you best. I will also be revealing a few web hosts that you should be avoiding at all cost.
SiteGround:
Managed web hosting for bloggers who are not super tech savvy, bloggers who would like their web host to look after the technical side of their blogs, bloggers who appreciate having technical support readily available.
DreamHost:
Powerful and scalable web hosting for bloggers who are not afraid to get a bit technical, bloggers who enjoy managing the technical side of their blog, bloggers who are not so much reliant on readily available technical phone support.
As mentioned above, SiteGround is the perfect web host for those that don't have the skills (or the time) to look after the technical side of their WordPress blog.
So what does that mean?
To begin with, SiteGround provides excellent customer support. If you have a problem, a technical issue or simply a question, you give them a call and they'll help you out.
Depending on the hosting plan you choose, SiteGround can also take care of WordPress updates, plugin updates and backups.
In other words, if you're the type of blogger who just wants to focus on publishing content and not worry about the technical nitty gritty, SiteGround is for you.
What's even better is that SiteGround is not at all expensive, despite the fact that you get so much more than just web hosting.
How to Get Started
It's easy to get started with SiteGround as their plans are very straightforward.

StartUp Plan:
Perfect for people with one website and are ready to get started.
GrowBig Plan:
Great value for money offer, including the option for multiple websites. It also includes the SuperCacher product that greatly improves a WordPress website speed.
GoGeek Plan:
Perfect for people with e-commerce and larger sites, or for those with more geeky development needs like staging and GIT integration.
Please note that all these plans include cPanel. Some bloggers swear by cPanel whereas others don't care too much. DreamHost (see below) does not offer cPanel, instead they have built their own control panel.
Once you've chosen your favorite SiteGround plan, simply press the Get Started button and choose a domain. You can either sign up with an existing domain or proceed with a brand new domain.
If you're moving to SiteGround from a different host and you choose for the GrowBig plan or the GoGeek plan, SiteGround will take care of the website transfer. This is a great service, especially if you have no idea how to go about that.
Once you've completed the domain process, simply follow the rest of the steps to complete the sign up and you're good to go!
DreamHost is a great web host for those that are a bit more tech savvy than the average blogger.
I've been with DreamHost for several years now and I couldn't be happier. At first I started with a Shared Hosting plan and later upgraded to a VPS.
My experience with both Shared and VPS Hosting has always been very positive. Excellent website speed, easy website configuration, lots of scalability options, a great custom-made Control Panel and reasonable pricing.
Technical Support
A key difference between SiteGround and DreamHost is that SiteGround is very much focussed on providing excellent, on-demand technical support. DreamHost on the other hand likes their customers to be self-sufficient.
This is actually a good thing. DreamHost provides all the tools customers need to manage their websites easily from within their control panel.
And in case of any technical issues, problems or questions, their comprehensive Knowledge Base provides answers to literally everything related to your web hosting account.
In other words, there is hardly ever any need to speak with a DreamHost customer support representative. And that's why I like DreamHost so much.
How to Get Started
DreamHost offers two different Shared Hosting plans: Shared Starter and Shared Unlimited.
While the Shared Starter plan is very affordable, the Shared Unlimited plan is a better option, because it allows for unlimited websites and it also includes email hosting. More importantly, you will also get one free domain.

I recommend you grab the $50 discount on a Shared Unlimited hosting plan. It's a very affordable plan and you will be able to upgrade your hosting without any issues in line with the growth of your site.
This plan includes 1 free domain name, unlimited storage space and bandwidth, and unlimited websites. It's a very good deal that will serve you well for a long time to come.
Use
this link
to get a
$50 discount
when you purchase a Shared Unlimited hosting package with
DreamHost
including one
free domain
.
DreamHost VPS Hosting
If your blog grows fast and traffic just keeps increasing, it's wise to move from Shared to a VPS hosting solution. On a VPS you will get your very own server resources, not hindered by any other third-party websites.
DreamHost offers four different VPS solutions, ranging from 1GB RAM and 30GB storage to 8GB RAM and 240GB storage. Each plan offers unlimited bandwidth and support for unlimited domains.
You can easily customize your VPS from within the DreamHost Control Panel so that it suits the needs of your website(s).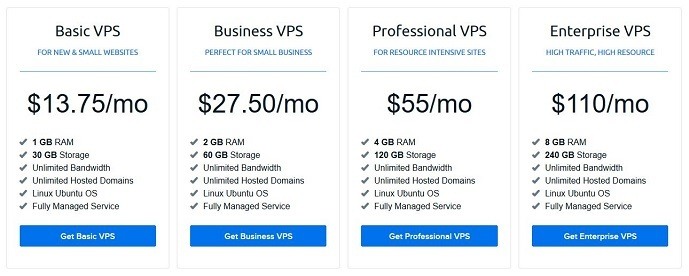 WHICH WEB HOST NOT TO CHOOSE
First and foremost, what I will be saying here is my own opinion. And my opinion is based on personal experience and having been around in this industry for quite some time. My technical background in IT also helps me in making good judgments in this regard.
So here we go, here are a few web hosting options I would NOT recommend to you.
1. Bluehost
If you're reading this as someone who is looking for a (new) web host for your blog, then undoubtedly you will have come across bloggers and Internet marketers recommending Bluehost.
A lot of these affiliate articles have the very same format. A quick introduction, followed by an explanation why Bluehost is the best choice, followed by a step-by-step guide to quickly setting up a website with Bluehost. Even the images used are often the same. Boring!
You may think that if the whole blogging world recommends Bluehost, they must be awesome, right? Think again.
The thing is, Bluehost offers very generous affiliate commissions. So if your blog gets a lot of traffic and has a lot of authority and trust, then promoting Bluehost can be a lucrative exercise.
Negative Reviews
If you dive a little deeper into real reviews about Bluehost then you'll notice a lot of consistencies in what people are saying:
Poor customer support
Slow servers
Not suitable for high traffic sites
Up-sell tactics
Etc.
The general consensus is often that Bluehost is good for new, small bloggers, because it's cheap and quick to set up.
But personally, I couldn't disagree more with that thought. You should choose a web host that not only offers top quality web hosting but is also able to accommodate your hosting needs once your blog starts growing. And that's where Bluehost falls short.
Endurance International Group (EIG)
The other thing many people are simply not aware of is that Bluehost is part of a mother company called Endurance International Group that owns a whole bunch of different web hosting providers.
The problem with this is that if an unsatisfied Bluehost customer decides to switch to a new hosting provider, there's a big chance they'll end up at another EIG web host.
Needless to say that DreamHost and SiteGround are NOT associated with EIG. They are both privately owned companies.
In short, my recommendation is to stay away from Bluehost.
2. GoDaddy
One of the biggest domain registrars and web hosts is GoDaddy. There is no doubt you will have heard of them at some point and you may even have considered them as your new web hosting provider.
I had several sites hosted with GoDaddy for a few years. In fact, they were my first ever web host. And even though I certainly don't think they were terrible, I was also never really happy with them. For various reasons.
Marketing and Sales
What GoDaddy does really well is marketing. Once you purchase a product with GoDaddy, you will be bombarded with special offers and discounts. I don't know about you, but all I want is top quality hosting. I honestly don't care too much about special deals and discounts here and there.
The other thing I found disappointing with GoDaddy is their phone support. I used their phone support a few times and I was always surprised by the sheer lack of expertise of their customer support representatives.
But that's not their fault though. GoDaddy is to blame here. GoDaddy hires these people only so they can claim that they offer phone support. And phone support is something that many (new) bloggers are looking for in a web host. It's a commercial thing.
In short, GoDaddy is an okay company but personally I wouldn't recommend hosting your website(s) with them.
Similar Companies
I would also not host my sites with Namecheap or HostGator.
Similar to GoDaddy, Namecheap specializes in domain registrations. That's what they do well. But they also offer hosting services, and while these hosting services are by no means terrible, there are much better alternatives out there.
Let me emphasize that there really is no need to have your domain registration and web hosting done at the same company. A lot of bloggers and Internet marketers choose to have their domains registered at company A and have their sites hosted at company B.
This is perfectly acceptable, and sometimes even recommended. It's something to do with eggs and baskets…
In regards to HostGator, just like Bluehost they are also owned by the Endurance International Group. You will find that their hosting services are very similar to what Bluehost offers, with similar reviews. Not worth it in my opinion.
​​Subscribe now and learn how to grow your ​blog into a thriving business with effective SEO and monetization strategies.
​​BONUS: ​​3 actionable SEO tips you can implement today to give your blog posts an immediate boost!

Final Thoughts on Web Hosting
I really do hope this article has helped you in choosing a good web host for your new or existing WordPress blog. I'm quite passionate about this topic, partly because of my technical background, and partly because I've been in this online marketing business for quite some time.
As a blogger, you want to focus on publishing content. You shouldn't have to worry about web hosting. I really do hate it when bloggers don't receive good quality hosting and instead have to deal with things like down-time, poor customer support, etc.
Sadly though, some web hosts simply don't deliver. If there's one last piece of advice I can give you, then that would be to never go for cheap. Cheap is cheap for a reason and ultimately you will get what you pay for.
You should go for a web host that suits your needs, now and in the future. Fast servers, flexible hosting packages, options to easily upgrade and downgrade, adequate customer support. I personally recommend DreamHost and SiteGround. Two very different web hosts that both offer top quality hosting.
Use
this link
to get a
$50 discount
when you purchase a Shared Unlimited hosting package with
DreamHost
including one
free domain
.