Please note that I may earn a small commission from purchases made through product links in this article at no extra cost to you. I only recommend products I use now, have used in the past, or would use if there was a personal need.
Last updated: October 22, 2021
This week was special. My favorite website in my portfolio of web properties reached 3 million page views.
A great milestone that I only randomly noticed approaching by going through my Google Analytics on a rainy Wednesday afternoon.
What's even better is that the site managed to achieve this in less than 4 years with only 110 blog posts published. This website is now generating a pleasant near-mid 4 figure income each month with minimal ongoing maintenance.
While 3 million page views may not be an earth shattering number, the fact that the site operates in a rather small niche, does not have a huge amount of content, and requires little time to manage, makes this a milestone to be happy about.
This SEO case study is a complete outline of the work that I've put in to get this website to where it is now.
Let's dive in!
Update 2021:
Note that this SEO case study is from a few years ago, and not everything mentioned here may be as relevant today as it was back then. However, a lot of the core strategies used at the time are still effective today, such as finding a good niche, publishing high quality relevant content, and proper keyword research.
Traffic Numbers, Stats and Graphs
First, let's have a look at some stats and graphs.
The website in this SEO case study was born in August 2015, with the first article published in September that year. At the time of writing, this website has the following content numbers:
110 blog posts
10 categories
9 pages
0 tags
That is a total of 129 URLs, which is very low for a high-traffic site that is almost four years old.
This is what the traffic in Google Analytics looks like, from the day the site was started until now (March 2019):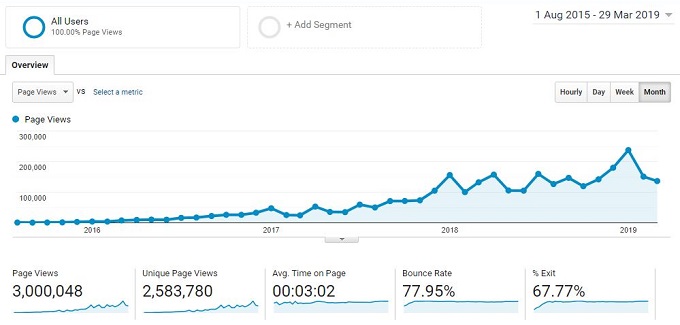 The spikes in that graph are mostly seasonal, with traffic surges typically happening in the months of January and April. On average, the website now generates around 200K page views per month.
This is an overview of the traffic sources:

Organic search is almost 90% of the total traffic, and that's been my focus from the day I started the site. It's safe to say that my SEO strategy worked out really well.
This is what the organic traffic graphs look like in Semrush and Ahrefs:


As you can see, the organic traffic growth is nice and steady, with no major bumps along the way.
How Is the Site Monetized?
The website makes money in various ways. The biggest income source is from display advertising via Mediavine.
If you're not familiar with Mediavine, they are an ad manager who place ads (from Google and other ad partners) on my site on my behalf. They take a cut of the total revenue, everyone wins.

Before I moved this site over to Mediavine, I was using Google AdSense. I'm pretty good with optimizing sites for AdSense and the income was decent, but with Mediavine the ad revenue is about 1.5x higher.
The website also makes money with affiliate sales, mainly via Commission Junction, Amazon Associates and individual affiliate programs. The site is in the outdoors/travel niche, and there's quite a few good affiliate products and services to promote in that space.
I don't do sponsored blog posts or paid social media campaigns for this site at all. I find it too distracting and social media has simply never been my focus for this particular website.
Passive Income?
You must have heard of the term passive income. Guess what, it doesn't exist.
In order to achieve passive income from a source at some point, you will need to put in the hard work beforehand.
And that's where this website is at right now. I can literally not do anything on this site at all for the next 6 months and still earn that very same income.
Nothing will change. The highly optimized evergreen content that exists on the site will simply keep working for me. And any social media updates can be scheduled months in advance.
>>
Check out my eBook
Keyword Research Made Easy
.
Learn how to generate
consistent long-term organic traffic
to your website by doing effective keyword research based on competitor analysis.
Subscribe now and learn how to grow your blog into a thriving business with effective blogging, SEO and monetization strategies.
SEO Strategy: 10 Steps to 3 Million Page Views
So here we go, an outline of the 10 steps in this SEO case study that brought this site to 3 million page views with minimal effort.
Make sure you read til the end because the last step is one of the most important ones.
My aim with this site was to publish highly optimized evergreen content that could rank for many years to come without the need to keep publishing new content.
If you're not familiar with the term evergreen content, it's essentially the type of content that is always relevant. From an SEO perspective, it's content that people always search for, year round.
It's the type of content that has the biggest ROI. You write it, optimize it, maintain it, and it's there forever, pulling in visitors from Google, all day every day.
The specific niche I chose in 2015 for this website was a mix of outdoors, travel and leisure. The reason I chose that niche is because I had noticed a couple of hobby sites dominating the SERPs, in addition to a bunch of high authority lifestyle blogs.
Those sites were getting old and their content wasn't exactly all that great. So I figured the time was right for someone else to take over those rankings with better, more informative, targeted content.
So I went ahead and registered a brand new domain. No funky tricks with expired domains with tons of old backlinks.
The challenge was on!
2. Infrastructure and Tools
When starting a brand new site with the goal to grow it big, it's important to get the basics right.
And that means placing your site on a well-performing server with a good quality host, and installing a theme that is fast and well-coded.
Hosting
As we all know, site speed is important. For your future readers as well as for Google. In fact, Google now takes site speed into consideration as a ranking factor for mobile searches.
For this particular site I skipped the shared hosting phase and went straight to a VPS with DreamHost for only $15 per month. A small VPS with 1GB memory that performed really well. I later upgraded the VPS to 2GB memory for $30 per month.

So much better than a dodgy shared hosting server that you need to share with tons of other, potentially resource-heavy, websites.
Get it right from the start and invest some money in a VPS that you can scale along with the growth of your website.
WordPress Theme
The other thing you need to get right from the beginning is a WordPress theme. Pick a good theme that is simple and fast. A theme that doesn't include tons of features you will never use and will only slow down your site.
For the website in this case study I chose the FocusBlog theme developed by Thrive Themes. At the time it was considered one of the lightest themes on the market, and after implementing a few tweaks here and there, the site has always performed really well for me.

Unfortunately Thrive has stopped selling it as they are currently working on a theme builder solution. Until recently, Blog Pioneer was also using FocusBlog, but I recently switched over to GeneratePress and I couldn't be more satisfied.
If you're looking for a new theme, I strongly recommend GeneratePress. You can try GeneratePress for free and see how you like it.
Most people who start a new blog simply start writing content without having a good think about site architecture. A blog post here, a new category there, and a bunch of tags thrown into the mix.
As time goes by, these sites slowly turn into spaghetti. There is no well-defined structure to group content into topics. This makes it very hard for search engines to work out what the website is about.
And if Google doesn't understand what a site is about, it won't rank. Or at least, it will take a lot longer for the content on that site to rank.
So before you publish any new content on your new site, you need to first define a site architecture.
Topics
The easiest way to define topics is by creating categories. The categories in your site are the foundation. They are responsible for grouping the content together in a logical way.
As mentioned above, my site has 10 categories and 110 blog posts, which is a great balance. These categories tell my readers AND the search engines what my site is about.
Each category has at least 5 blog posts to give them some weight. The site has no tags, because tags suck (see further below).
Internal Linking
One of the most overlooked SEO tactics is internal linking. Each and every single blog post should link out to at least one other blog post, and should have at least one internal link pointing to them.
Whenever you publish a new blog post on your site, make sure you find one or more related blog posts where you can add a link to this new blog post.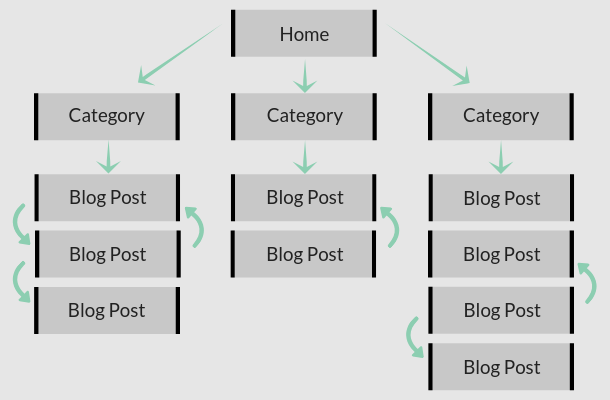 What you want to avoid here is turning blog posts into orphans. Blog posts that have no internal links pointed to them, get buried deep into the archives. If a reader can't access these blog posts, Google won't be happy to rank them either.
By not linking to a blog post, you are essentially telling the search engines that this blog post is not important. So why would they rank it?
A lot of bloggers tend to neglect category pages. and typically only use them to give blog posts a home.
But in Google's eyes, a category page is a real URL that lives in your website. Just like a highly optimized 2K word blog post is a URL.
The difference between an average category page and that 2K word blog post is that this blog post has a lot more content + images + internal links + outbound links, etc.
In other words, that blog post is much more likely to rank for keywords than an average category page is.
But that doesn't mean you should neglect category pages.
Categories need to be looked after, for two reasons:
A category page is a URL. It's a resident that lives in your website and as such it deserves respect, just like posts and pages deserve respect. Give it some love to avoid thin or duplicate content issues.
With a bit of effort, a category page can actually attract organic traffic.
Here's a screenshot of search traffic to one of the top performing categories:

That's almost 50K visitors coming to that category page from Google. Most of that traffic is in the last 18 months, which is when I really started pushing for these categories to be optimized.
That's right, if you give your category pages some SEO love, Google will take note and reward you for it. Not just that, your readers will appreciate it too.
With the help of Yoast, this is what I typically do with category pages:
1. Optimize the Page Title and SEO Title
A category page deserves a good name that reflects what that page is about.
The category page title is the name that will appear on your blog:

The category page SEO title is the name that you want the search engines to pick up. This should be the optimized name as you want it to appear in the SERPs:

2. Write a Proper Meta Description
Similar to how you would be writing a good meta description for a blog post, you should also be doing this for categories.
Briefly describe what that category page is about and include one or more keywords that you would like the category to potentially rank for.

3. Add an Optimized Introduction Blurb
If your theme accommodates this, make sure to write a good introduction in your category page.
A good introduction blurb can include images, alt tags, paragraphs, headers, bullet lists, internal links, all the good things.
Simply treat that introduction blurb as if it is a short blog post.

4. Point Internal Links to the Category Page
If you want to tell Google that a certain category page plays an important role within your site, make sure you create a few internal links pointing to this category page.
You can do this from within blog posts under that category, but also from pages such as the home page.
5. Remove the Word Category from the URL
My preference is to remove the word category from the URL. It makes the URL look cleaner and more natural. Especially if your intention is to rank with category pages, it's a good idea to remove it.
Navigate to Yoast SEO, Advanced, Permalinks and choose to remove the category base from the category URL.


Remember those hideous tag clouds from back in the day? Literally every single WordPress blog out there would have a tag cloud floating in their sidebar or footer.
No one would ever click on any of the tags in these tag clouds, but they were there anyway. Just because.
The site we're discussing in this SEO case study has zero tags. Just like none of my sites ever have any tags. Because WordPress tags add very little value and they can actually hurt your organic rankings.
Here's why:
1. Tags Create Thin Content Pages
Thin content basically means content that doesn't add much value, has little or no substance, and is unlikely to trigger any user engagement. Google strongly dislikes thin content.
A typical tag page has a title such as "Name of tag – archives", followed by a list of blog posts. That's it. And if there are very few blog posts, or worse, just one, then the content in this page will obviously be very thin.
Imagine if you had hundreds of these tag pages in your site…
2. Tags Create Duplicate Content Issues
Duplicate content becomes an issue when Google can't work out which two (or more) pages in your site should be ranked higher.
As a result, Google may decide to not rank either of them. Or worse, it may give your site a red flag if you have a lot of these duplicate content issues.
Tag pages are notorious for causing duplicate content issues. It's very common for sites to have several blog posts with the exact same tags. So, other than the title of these tag pages, the content would be completely identical.
3. Tags Are Confusing
Tags – if not used properly – can be confusing for both readers as well as for search engines.
Tags often undermine the content structure of a site, and have the potential to turn an otherwise clean website into a cluttered mess.
For search engines this is an issue because it's harder for them to understand what your site is about. Use categories to create that structure, and skip tags altogether.
6. Focus on Writing Relevant Content That Answers Questions
My focus with this website was publishing informational content that answers questions people have when they search in Google.
It's crucial to use a keyword research tool like Semrush to figure out what people are searching for. The key here though is to not just try to please Google when writing content.
You need to please the readers that end up on your site. They are the ones who will ultimately give you the tick of approval. And if they DO give you that tick of approval, Google will do the same thing.
User Intent
By all means, write content around keywords, but always keep the reader in mind. The readers land on your site, searching for answers, and you need to provide those answers through content that is easy to digest.
So when I write my articles, I make sure that these articles are structured, presented and written such that readers can easily find their answers.
And if you can achieve this with 500 words, then that's what it is. Focus on user intent.
Long-Form Content? Nonsense
The average word count across all blog posts in this website is under 1,000 words. And if you've been blogging for a while, you will know that this is actually quite low.
Some of my competitors have articles with more than 2K words. I can easily outrank them with half that amount.
This long-form content obsession is an SEO myth that needs to be busted. It has led to this weird, never-ending race for the highest word count. The more words, the better, right? Wrong.
Instead of trying to up that word count, what you need to do is focus on writing in-depth, authoritative, consumable, well-structured content that answers questions. Sure, this will often result in long-form, but the word count itself is irrelevant.
In other words, a high word count is not a prerequisite to rank in Google.
7. Implement Perfect On-Page SEO
This is where I tend to get very picky. I am super passionate about perfecting on-page SEO because high quality and relevant content + perfect on-page SEO will get you organic traffic.
High quality and relevant content + perfect on-page SEO will get you organic traffic.Click to Tweet
This is something I've been doing for years and it works every single time. It's oh so important to give Google perfect HMTL that they can easily and quickly understand and interpret. The easier it is for them to understand what your article is about, the more likely it will rank.
Also, have you had a good look at what an average Google search results page looks like nowadays? It really isn't about a top 10 anymore.
There are so many things going on… featured snippets, quick links, carousels, people-also-ask boxes, etc. And the best way to get involved in this is by perfecting the on-page SEO and HTML of your blog posts. Help Google to help you.
Some of the below action items are pretty straight-forward and basic, but you'd be surprised how many people actually skip some of these steps or not execute them properly.
Here is what I always do in regards to on-page SEO:
1. Keep the URL Slug Short and Sweet
By default, WordPress creates a URL slug based on the title, resulting in a much-too-long, not very friendly URL.
The URL should be short and sweet, should include the keyword and should not contain any redundant stop words.
And just to be complete here, blog post URLs should of course also not have the published date in them, nor the category they belong to.
2. Create an SEO and WordPress Title
Give your blog post an SEO title and a WordPress title. The SEO title is what you want Google to display in their search results, the WordPress title is the one readers can see at the top of the post.
These two titles don't have to be the same. In fact, you should put effort into coming up with two different titles. It's an opportunity to give your main keyword (and variations thereof) a home.
Just keep in mind that both titles should be focused on the reader. The SEO title should be optimized, but it should also improve CTR. Make it such that people want to click on your link, rather than on links to other sites.
The WordPress title can be longer than the SEO title, as there is more room. Make use of that, and try to think of a title that really captures the essence of the article.
Don't forget: avoid keyword stuffing at all cost, and always keep the reader in mind.
3. Create a Descriptive and Enticing Meta Description
The Meta description is the perfect opportunity to explain to both Google as well as to your potential readers what your article is about.
So make sure that this description captures the attention of people searching in Google, and also make sure it contains the main keyword (and/or any variation thereof).
Pretty standard stuff, but still so many websites out there completely neglect the meta description.
Again, do not use the meta description to stuff keywords, it's not going to work.
4. Link to Trustworthy External Sources
A lot of people are still afraid to link out to external sources, especially to "competitors" or fellow bloggers.
But including outbound links in your content is super important, for your readers as well as for Google.
Outbound links to reputable sources add context and relevance to your content. It helps the search engines to better understand what your content is about.
But, don't link for the sake of linking. Make sure these outbound links complement your content, they need to make sense.
5. Link to Internal Sources Where It Makes Sense
As mentioned in the site architecture section, one of the most powerful ways to let Google know that a certain blog post is important to you, is by internally linking to this blog post from within other, related blog posts.
So whenever I publish a new blog post, I try to find a few suitable, existing blog posts from where I can link to this new blog post, ideally within the same category.
The next time Google crawls these blog posts, it will pick up these internal links and add more weight to that new blog post.
6. Create a Logical HTML Hierarchy with Header Elements
This is something I tend to get obsessed about.
One of the best ways to help search engines understand your content is by using a logical HTML and header structure.
Sure, the theme you're using is very much responsible for what the HTML ultimately looks like, but there are lots of things you can do to perfect that HTML output.
I always make sure that the HTML structure and hierarchy in my articles are top notch, and I cringe when I see 2x H1 tags, or a H2 tag followed by a H5 tag. I also often see H2 header elements in footers and sidebar widgets. Not good.
In the site we're case-studying here, I've manually had to remove HTML header elements (H1/2/3/4/5) from the comments section, the related posts section, the author box and from the sidebar widgets.
All these sections had their own HTML header elements. Not a huge deal by any means, but as I mentioned, I get super picky in this area and I really only want the main content piece to contain header elements.
The main content is what I want Google to focus on. The rest is irrelevant from a search engine perspective.
7. Add (Optimized) Images
This one is also pretty straightforward, but again so many people overlook the importance of having good quality, descriptive images in their content.
I would typically include at least one image per 200 words of content + cover image + Pinterest image. This is not a rule by any means, and it also depends on the type of content you're publishing. But with this site we're case-studying I have around 4-6 images per 1,000 words.
These images are also optimized with descriptive ALT tags and descriptive captions (optional). The file name also needs to be descriptive, so no IMG986.jpg type names. Size-wise, I always aim for under 100Kb, except for the cover and Pinterest image that are typically a bit heavier, but always under 200 Kb.
8. Create HTML Anchor Links
This one is entirely optional, but what I often do in my content is I give header elements an ID to create virtual anchor links, like this:
.
.
<h2 id="paragraph1">Paragraph 1</h2>
.
.
<h2 id="paragraph2">Paragraph 2</h2>
.
.
This can be done manually, or with a Table of Contents type plugin. I prefer to do it manually, because if I can avoid plugins I will. Plus, I actually don't always need a TOC, but I do want the extra anchor links.
Why?
Google actually picks up on these anchor links and can potentially display them right underneath the description in the search results. This means more links, more clicks and higher CTR.
The other reason I do this is that it allows me to link directly to a paragraph in a post – rather than to the post itself – from within another post.
I typically only add these anchors to H2 elements, the highest in the header hierarchy. An average blog post would typically have 3-6 H2 elements.
I do occasionally add anchors to H3/4 paragraphs if they contain possible answers to what people are searching for in Google. This can then trigger Google to include a direct link to that paragraph in the search results.
Here's an example from Blog Pioneer:

That's 4 extra links people can click on.
9. Featured Snippets
Targeting featurd snippets should also be part of your on-page SEO strategy.
Given the importance of featured snippets (they really can land you tons of extra organic traffic), it's best to dedicate a section to it.
8. Target Featured Snippets
If you have articles ranking on the first page of Google, the next step up is to get your content featured in the number 0 spot.
Featured snippets typically have a huge CTR and can bring in tons of extra traffic. And that's exactly the reason why I optimize every single article with HTML elements so that Google can easily pick it up and present my content in that much-desired top spot.
To get the most out of Featured Snippets, I created a bunch of list-type articles (such as, top 8 things to do…) that all have the same, or similar, HTML structure. It's the HTML that ultimately gets you the top spot, not the actual content.
The quality of the content will get you on page 1, but the HTML will get you the Featured Snippet. And this HTML does not at all need to be complicated, yet so many websites out there fail to get this right.
Let's illustrate this with a few HTML examples.
A typical "top 8" list article on my site would look like this:
<h1>Page Title with main keyword</h1>
.
.
<h2>1. List item</h2>
.
.
<h2>2. List item</h2>
.
.
.
.
<h2>8. List item</h2>
As you can see, this is a very basic header hierarchy, with one H1 header, followed by 8 H2 headers. It's worth noting that I also do not add any H3 headers between the H2 headers. Clean and simple.
Depending on how much introduction content I would have for the article, and depending on the competitiveness of the main keyword I'm targeting, I might add an extra header, like so:
<h1>Page Title with main keyword</h1>
.
.
<h2>Header with (variation of) main keyword</h2>
.
.
<h3>1. List item</h3>
.
.
<h3>2. List item</h3>
.
.
.
.
<h3>8. List item</h3>
In this example I have one H1 header, followed by one H2 header with a variation of the main keyword, followed by 8 H3 headers. Again, very clean and simple.
I often take this a step further and include anchor links, like so:
<h1>Page Title with main keyword</h1>
.
.
<h2 id="list">Header with (variation of) main keyword</h2>
.
.
<h3 id="listitem1">1. List item</h3>
.
.
<h3 id="listitem2">2. List item</h3>
.
.
.
.
<h3 id="listitem8">8. List item</h3>
The benefit of doing this is that it further emphasizes the purpose of the content.
I'm trying to give readers a top 8 list and with a clear header structure + anchor links, I am giving Google the HTML it needs to understand my content. It is then able to abstract the data it needs to populate a Featured Snippet + bonus quick links.
As you can see, this is not rocket science. But so many websites simply neglect this concept.
What also helps is removing all other header elements in your website. In my site for example I removed all headers that were not in the actual content part of the page.
Comment sections, footers, sidebar widgets, they all typically have header elements (H2/3/4/5). It's not the end of the world, but I always remove them.
I do this because I really only want the main content to matter to Google. Nothing else on the page matters. It's the content that needs to rank, everything else is clutter.
9. Ongoing Content Updates
Believe it or not, I actually spend more time on monitoring and optimizing existing content than on publishing new content.
We often hear people saying that we need to keep publishing new content as much as possible to keep our sites fresh. It's nonsense.
It's kind of sad, because I see tons of blogs out there being updated with fresh content almost every day, but they don't get much organic traffic at all. And that's because the content they publish is often too random and not optimized enough.
They spend so much time creating new content, but the return simply isn't there. It's time not well spent.
This is one of the reasons the site I am case-studying here has minimal content. But the content that exists, is always optimized and fresh.
So what kind of updates am I doing?
Optimize for new opportunity keywords:
I use a tool such as Semrush, Ahrefs or search console to find keywords that a given article is not yet ranking high for in the SERPs. I then analyze the article to see if I can update it such that I can cater for some of these keywords.
Update broken links:
Over time, any site will have broken links, because sites cease to exist or because they've changed their content structure without properly implementing 301 redirects. It's important to ALWAYS remove or update these broken links.
Update links to sites that have moved to HTTPS:
Older articles may still have links to HTTP sites that have migrated to HTTPS. As soon as I find one of these links, I update them immediately.
Review header and paragraph structure:
Every few months or so I revisit articles and have a critical look at how they are structured. I may have new ideas or insights, and update the articles accordingly.
Adding internal links where appropriate:
If I find that an article is not ranking high enough, I go ahead and see if I can point some more internal links to this article. In addition, a new post also needs a few internal links, so whenever I publish a new blog post, I try and find a couple of articles to link to this new blog post. Boom, an immediate SEO boost.
Adding new sections of fresh content:
I continuously go back into older articles and see if I can add some fresh content. Freshness is important, not only for your readers but also for the search engines.
Updating images, alt tags and captions:
I also continuously make sure that all images in my site have proper ALT tags and captions. This is also an opportunity to optimize for long-tail keywords.
No matter how small the update to an article is, I always implement these updates as soon as I have them ready.
Lots of bloggers actually think that updating a high ranking article will make it lose its rankings, but that is another SEO myth that requires busting.
Republish?
No, I don't republish blog posts that I update. In my opinion, this is another SEO myth that's been doing the rounds for quite some time now.
It's okay to republish an old blog post if you want that blog post to re-appear in your RSS feed or in your latest blog posts list. But there is zero SEO benefit in republishing a blog post, it won't get an extra boost out of it.
It's the updates that give these blog posts a boost, not the published date.
Last Modified Date
I do something else though. I show the "last modified date" in all of the blog posts. And I mark up that date with schema so that Google can easily pick it up and display it in the SERPs.
And trust me when I say that Google pretty much ALWAYS shows that last modified date underneath my articles in the search results pages.
How do I do this?
I use a plugin called WP Last Modified Date for this. The plugin allows me to display the last modified date and mark it up with schema.
Let's use my Keysearch review article as an example. Check out the last modified date on top of the article:

This is what my article looks like in Google's search results:

Can you spot to last modified date?
Please note though that the date you see there MUST be marked up with Schema. That's how Google is much more likely to pick it up and display it in the SERPs.
Sure, Google can also pick up published and modified dates from the HTML source code, but I've found that if you schematize the modified date, Google will always grab that date and display it.
This is what the schema output looks like in the structured data testing tool:

It just works. It won't increase your rankings overnight, but Google likes it, and it's useful for readers too. Everyone wins.
10. Aim for a Natural Backlink Profile (Less Is More)
This is perhaps one of the most important parts of this SEO case study.
More backlinks IS NOT more organic traffic.
Let that sink in for a moment.
You've probably heard it a million times: create more and more backlinks if you want to rank higher for your keywords. I call bullsh#t.
What you need to aim for is a natural backlink profile. What does that mean?
It simply means that the quantity and quality of the backlinks pointing to your site should be what is considered natural.
Many people will disagree with me on this, but I genuinely believe that creating lots and lots of backlinks has the potential to work against you. Google has become a lot smarter at understanding content and backlinks have lost a lot of their ranking power over the years. And this is only going to get worse. Or, should I say better?
Have a look at your competitors. If they have 1,000 quality, natural-looking backlinks, then you really don't need to have 10K backlinks in order to outperform them. Those 10K backlinks could in fact work against you, because it looks super unnatural.
Focus on content and let the Internet do the rest. Create link worthy content. Don't cut corners. A piece of content doesn't need to be 5000 words, but it does need to be well-structured, needs to answer questions and needs to be presented in a way that is easily digestible.
If you keep doing that, those natural links will absolutely come. And natural links are the best links, no matter how authoritative or non-authoritative the sites are that link to you.
Here's what Moz thinks of my site:

Note that it has found 2.1K backlinks, coming from 580 domains.
This is the top 10 linking domains, ordered by Domain Authority:

As you can see, there are some very powerful domains in that list.
This is what Ahrefs thinks of my site:

Ahrefs finds 1.22K backlinks, coming from 315 domains.
These are not high numbers at all. But they are good numbers. They represent a very natural backlink profile.
And this is a list of the top linking domains, ordered by Domain Rating:

Again, very powerful domains are linking to my site. And none of these links were manually created.
They are all natural backlinks.
The First 8 Months
But shooting for a natural backlink profile, doesn't mean you shouldn't do any link building at all.
I did active link building in the first 8 months of the website's existence. I wanted to let Google and the other search engines know that there was a new, legitimate website in town that was here to stay.
And what I did was nothing out of the ordinary. I created social media profiles, I did the occasional blog comment on blogs in the same niche and I did a couple of guest posts.
Since those 8 months, I have done zero link building. Zero, nothing, nada.
Instead, I simply let the Internet do its job. I create shareable, good quality content, people find me via Google, and some of these people then link to me because they think my content is the perfect source to include in their own content. That's it.
Once you have a good amount of quality content in place and Google starts to rank you, you don't need to worry about creating new backlinks. All you need to do is publish and promote quality content, and the Internet will do the rest.
Today
And today? I get new, natural backlinks all the time. Backlinks from fellow bloggers that see my site as a good resource, and the occasional high-authority backlink (from a newspaper-type website for example) every now and then.
These backlinks are all natural, and they are being created at a natural pace. And that's exactly how the search engines would like to see it.
It's an ongoing cycle. You create quality content, Google ranks it, people share it, people link to it, Google ranks it higher, more people share it, more people link to it, Google ranks it even higher and gives you featured snippets, more shares, more links, etc.
Once you're in that beautiful Internet cycle, all you need to do is make sure your existing content stays up-to-date, and publish a new piece of content every now and then.
Life is good that way.
To Disavow or Not to Disavow?
Every website will at some point attract spam backlinks. It's just how the Internet works. I typically ignore these links as I trust that Google is able to recognize spam links and won't penalize sites that are receiving these dodgy backlinks.
However, I do monitor backlinks regularly, using Google Search Console, Semrush and Ahrefs. I need to know what's going on, who's linking to me, and which links have disappeared. I also need to keep an eye on any dodgy links.
If I find that any of my sites is getting a bit too many spam links, links that could potentially cause damage, then I will submit a disavow file to Google. However, for this particular site we're case-studying, I have not disavowed any links, despite the fact that there are quite a few spammy ones.
If you'd like to learn more about whether or not you should disavow links, this article written by Marie Haynes is a gem.
The Takeaways from This SEO Case Study
Hopefully this SEO case study has given you some ideas on how to improve your organic traffic. SEO does not have to be rocket science, but it does require focus and patience.
Here are some of the most important takeaways:
Focus on quality of content instead of quantity:
Your site doesn't need to be a content machine. Blog smarter, and make sure that the content you publish is super relevant and highly optimized. And keep updating your existing content with smart and useful updates.
Always implement perfect on-page SEO:
Quality content + perfect on-page SEO = organic traffic. Be very picky in regards to on-page SEO. This includes targeting featured snippets.
Always maintain a perfect site architecture:
Make sure your content is structured such that the search engines can recognize the topics in your site. This includes creating and optimizing a limited number of categories, no tags, and smart internal linking. This is how you build authority.
Keep your backlink profile natural:
Backlinks aren't as important as they used to be. Not only that, Google has also become a lot smarter in recognizing unnatural backlink profiles. Keep things natural, that always works best.
Less is more:
This principle applies to all aspects of a website. No clutter content, no distracting footer and sidebar widgets, no thin-content tag pages and links, no low-quality blog posts, clean HTML, clean backlink profile, clean site architecture, etc.
Tools and Services Used for This Website
Here's a quick summary of all the tools, services and other goodies I've used for this particular site:
1. Dreamhost
When you start a new site, and your plan is to ultimately drive good traffic to it and make money with it, just skip the shared hosting stage. Do things properly from the start and get yourself a decent VPS.
You can get a well-performing VPS for only $15 per month with DreamHost. From there you can easily upgrade your VPS along with the growth of your site, which is what I have done as well.
Very easy, and great performance.
2. Thrive Themes
The site in this SEO case study runs on the popular FocusBlog blog theme developed by Thrive Themes. I've always liked this theme, but unfortunately Thrive does not sell it anymore.
Blog Pioneer was also using FocusBlog, but I recently switched over to GeneratePress and I couldn't be happier. You can try GeneratePress for free.
I also use Thrive Architect for this site, just to create the home page and a few other landing pages. But please don't build regular blog posts with a page builder, it's not necessary and adds too much bloat.
3. Semrush
Semrush is a great tool for keyword research. Whenever I create a new blog post, I look up all the keywords the competition is ranking for (and not ranking for), and use that as the base for that blog post. It's not difficult and works every time.
4. Ahrefs
I've also used Ahrefs for this site, not just for keyword research but more so for tracking backlinks. I find that Ahrefs is a bit better at that than Semrush is.
I hear you thinking, how can you afford both Semrush and Ahrefs? Yes, they are both very expensive, but I usually just get a month subscription and bulk up the work for the following months.
5. Canva
I am not at all a designer, but Canva allows me to create decent looking images, very helpful. I use it mainly to create cover images and Pinterest images.
The best part? It's free!
So there you have it, the SEO strategy I have used to get this website to 3 million page views. I hope this case study has given you some insights and concrete action items that you can use for your own sites.
Please feel free to drop a comment or send me an email of you have any follow up questions or feedback.